Field Harvested Game
Castle Estate is pleased to offer wild game of Venison, Kangaroo, Rabbit, Pig and Buffalo, available from the online Providore store.  Castle Estate provides a wide range of wild game products to the wholesale and hospitality industry. Castle Estate is also provides processing of field Harvest wild game services including Venison, Kangaroo, Rabbit, Goat and Pigs.
In May 2020, Castle Estate obtained Victoria's first Wild Game processing license for the processing of Field Harvested Venison. In October 2020, Castle Estate became the first Abattoir in Victoria to be approved for the processing of Kangaroo for Human consumption.
All hunters wishing to supply field harvested game, must be accredited with both the local governing authorities and Castle Estate. Please contact the Castle Estate office on 03 5594 5222 to register your interest for wholesale supply of wild game products, or as a registered hunter you can also submit an online query below.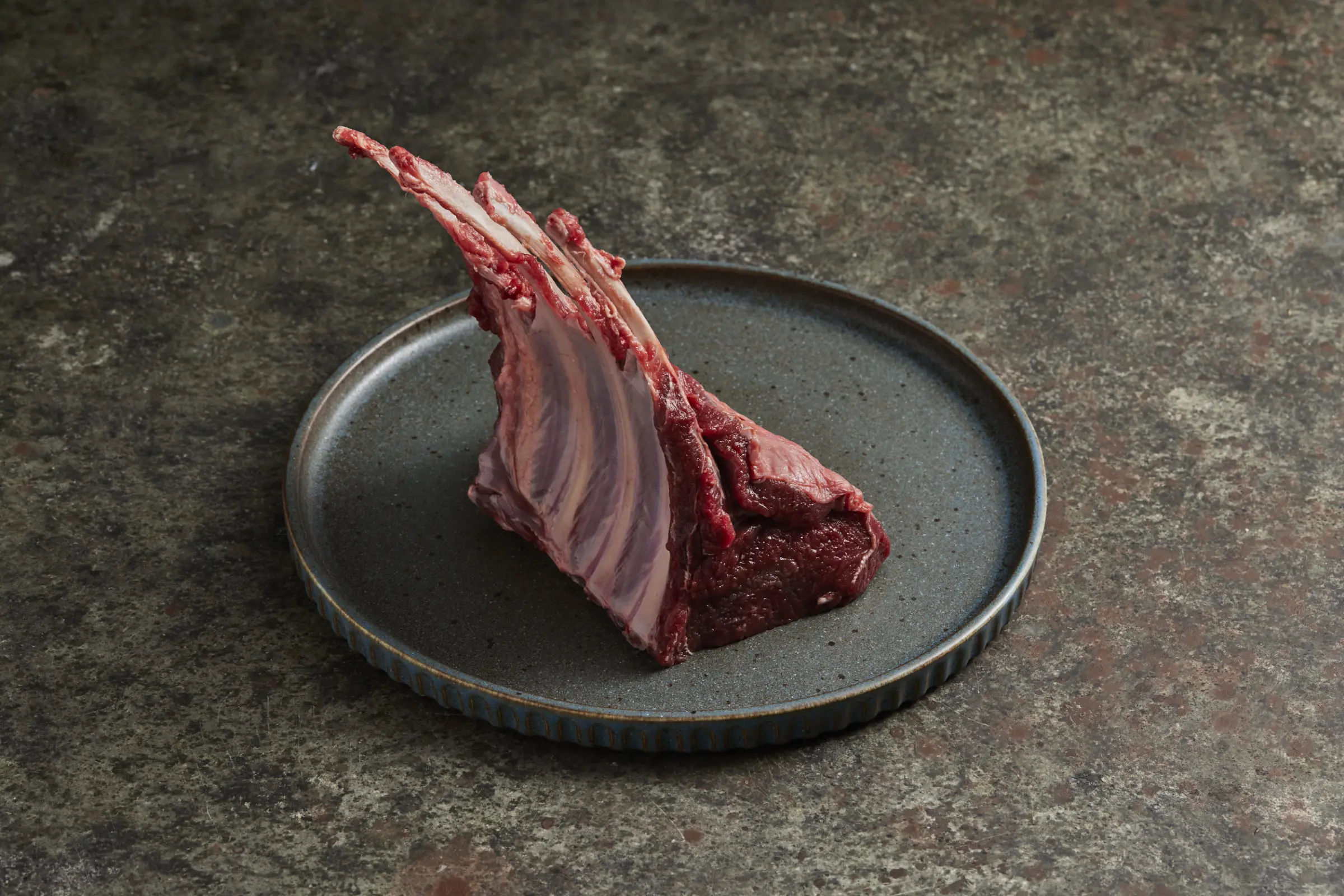 Venison
Venison is lean, clean meat. Higher in protein and lower in fat than beef, it is as free range and healthy as you get. If you've never tasted venison, it is close in flavor to grass-fed beef or bison. Rich, lean, but easy to overcook. A general rule is to cook the tender cuts a bit less than you think, and to cook the tougher cuts a bit more than you think.
Kangaroo
Kangaroos are never farmed. They're sourced from their natural environment – roaming freely across expansive pastoral areas of Australia. This means that the meat that ends up on your plate is free from human intervention, antibiotics, added growth hormones, or chemicals. If you're looking for a family-friendly red meat that is tasty, healthy, nutritious, easy to cook and sustainably sourced look no further than kangaroo. It is easy-to-cook, tasty, naturally lean and healthy red meat, why not add to your weekly repertoire?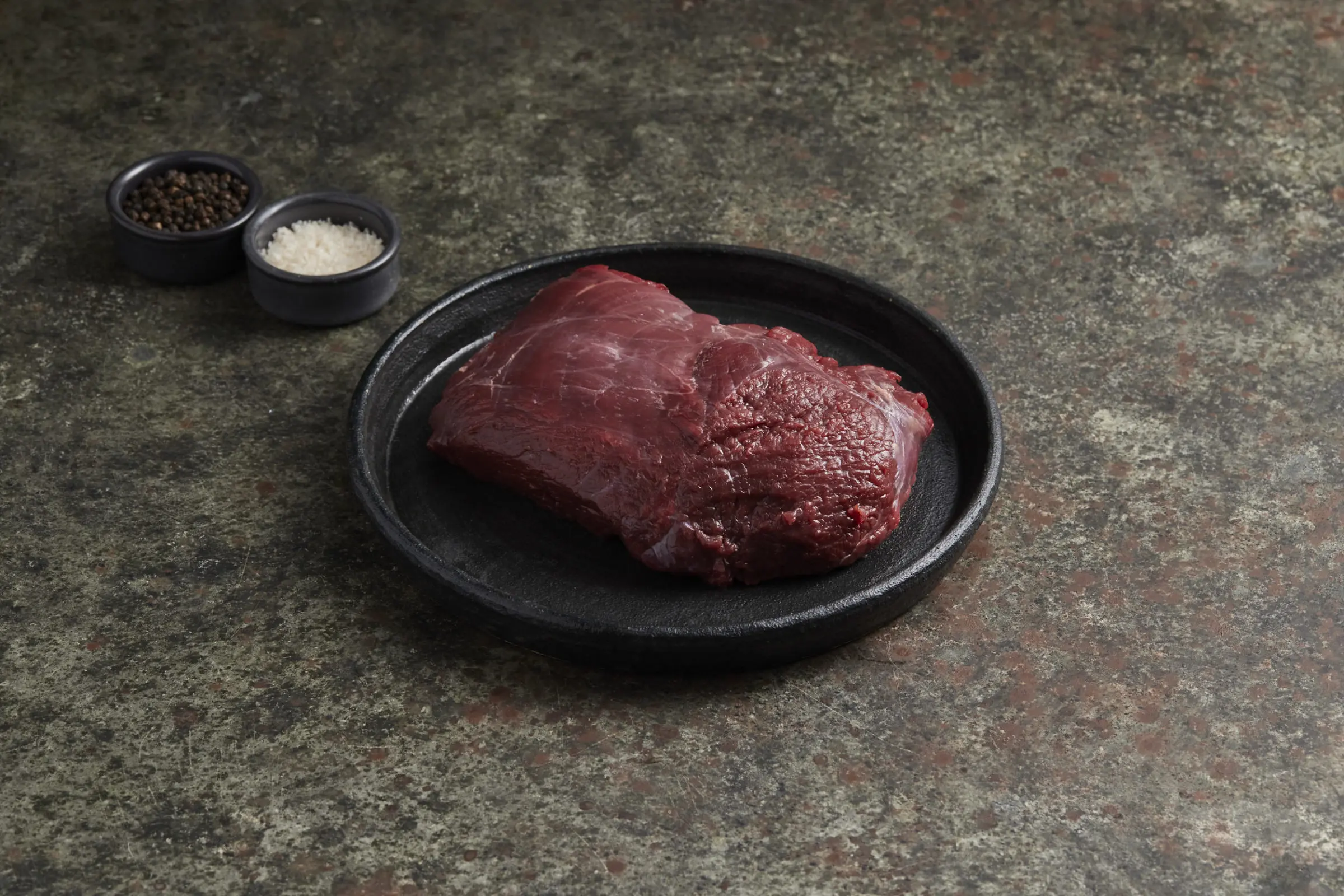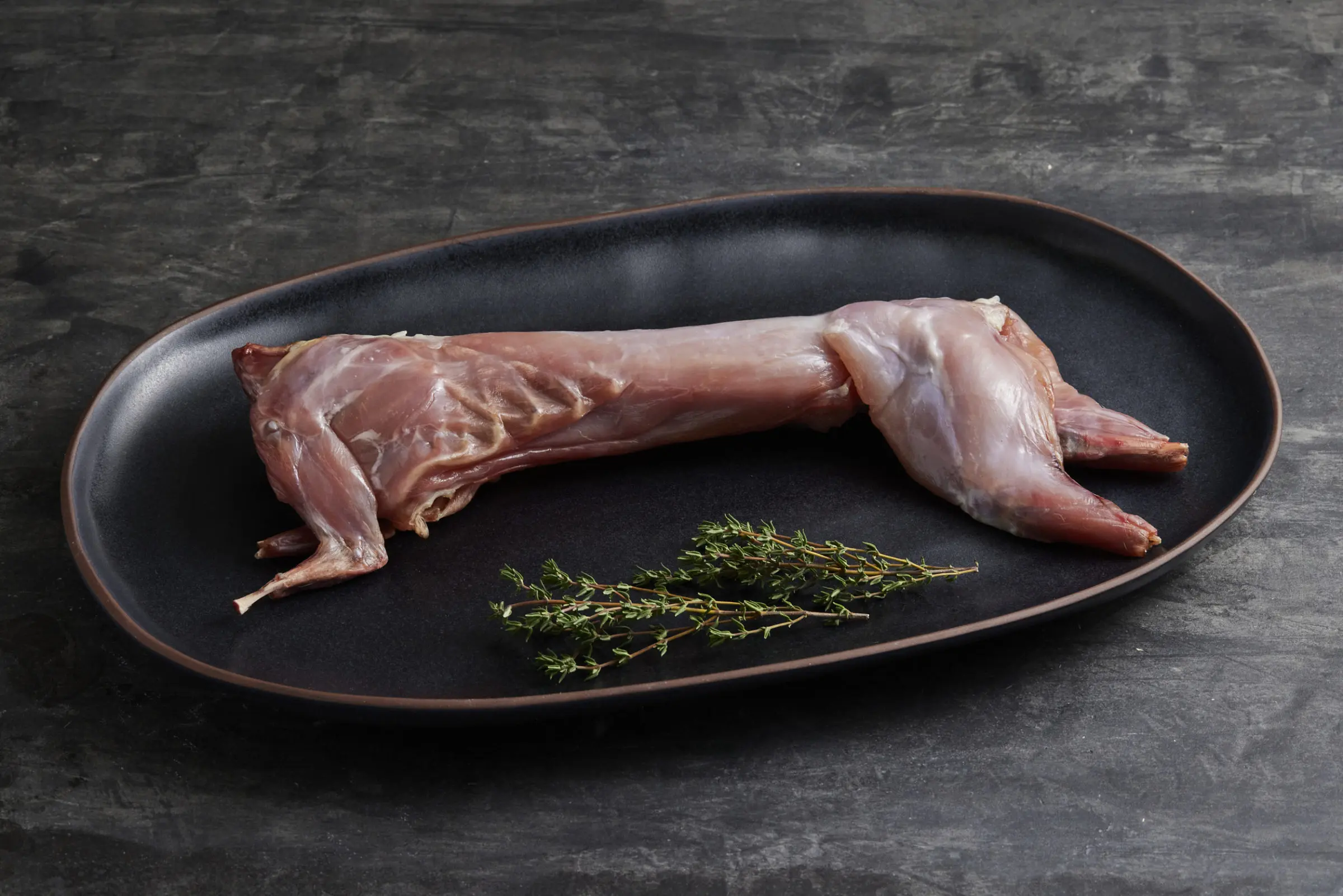 Rabbits
Wild rabbit and farmed rabbit are two very different beasts. Wild rabbit meat is lean and gamy in flavour, rich, earthy and distinct. Wild rabbits run around a lot and the muscles get very developed, which is why the meat is so dark. Farmed rabbits, in contrast, are fat and lazy from lying around the pen eating. Farmed rabbit is white, has lovely creamy fat hanging around its belly and loin, and has a more delicate flavour.
The difference is even more pronounced when the meat is cooked. Farmed rabbit is tender, and can be as soft as butter provided it is cooked a certain way. Wild rabbit has to be cooked for a long time in a wet sauce before it will yield, and it doesn't roast well. Our Wild Rabbit meat lends itself to slow braising, it can be a tricky beast to tackle, but when cooked with care, rabbit can be deliciously rustic!
Where does Castle Estate produce come from?
Our produce is breed and raised on our properties around the shores of Lake Purrumbete, located in the heart of the lakes and crater region of South West Victoria. This area is a thriving farming area, particularly for beef and lamb, located only 10 minutes from Camperdown. Pork and chicken products are sourced from like minded producers in from various regions of Victoria.
Are your products carbon neutral?
Our direction is consistent with Meat & Livestock Australia (mla.com.au/cn30), this link provides everything that you need to know about the industries target to be carbon neutral by 2030. Castle Estate fully supports this direction through it's sustainable farming practices, and will continue to work as an operation towards this collective industry target by 2030.
How can I be assured of Castle Estate's quality control standards?
Castle Estate only employs the highest quality staff as part of it's family operation. Our team consists of 4 highly qualified Butchers with a combined experience of over 75 years in the industry. Packing and administration staff provide attention to detail and a service focussed on ensuring that the highest levels of presentation and product are achieved at all times. A full time Quality Assurance Manager oversees all product quality and procedural systems. Quarterly 3rd party audits are completed by SGS under the Victorian Meat Industry standards.
Are you Halal accredited?
We are often asked if the Castle Estate operation is Halal accredited. Castle Estate processes a wide variety of species, including Pork, therefore no animals are processed under Halal accreditation.
How do I prepare to bring an animal to the Castle Estate operation?
Animals are not to be delivered to our site without a booking. You must ring the office between the hours of 9:00am and 4:00pm Monday to Friday to arrange a booking.
All animals are to be delivered to Koallah Farm between 7:00am and 3:00pm on the day prior to the scheduled day of slaughter. Animals will not be received outside of these times without prior arrangement.
All Cattle must be accompanied with a National Vendor Declaration (NVD) form and NLIS ear tag.
National Vendor Declaration (NVD) forms can be emailed to

[email protected]

but will need to ensure this is done prior to delivery of the animal.
We will not accept delivery of your animal if you have not provided your paperwork and your animal is not fitted with an NLIS ear tag.
Further information about Cattle, Sheep, Goat or Pig National Vendor Declarations and NLIS ear tags can be obtained at www.agriculture.vic.gov.au/agriculture/livestock/national-livestock-identification-system
How long are products aged or hung for?
All product is hung for a minimum of 5 days and up to 10 days dependant on available processing and packing capacity, we believe this allows a reasonable time for the product to form in a way that is most conducive to the highest quality product.
Do you offer a service for smoking products?
Yes, we have recently installed a brand new Smoke House at Castle Estate, which we use to create unique smoking combinations for our own product through the Providore, as well as produce for you a high quality service for your own pork products such as ham or bacon as part of service processing.
What is game meat field harvester & game meat processing facility?
Castle Estate procure Venison and Rabbits from registered game meat field harvesters. These field harvesters operate harvest vehicles in some of the most remote regions of Victoria, they return product to field depots, where this sustainably hunted and natural product (often a pest to natural wildlife) is collected by Castle Estate and returned to our PrimeSafe accredited game meat processing facility. This product is then converted into high quality product for human consumption.
How are products packaged & labelled?
All beef cuts (excluding bones and sausages) are provided in vacuum packaging to maintain freshness, improve protection when freezing and maintain the quality any defrosted product. All meat is labelled with product name, pack date and weight, and placed in cardboard carry boxes for collection.
If as part of your business operation you wish to resell your product, Castle Estate can label product with your own logo/details, order picking and compilation is also provided to a number of 3rd party customers. This needs to be pre-arranged directly with the Castle Estate team prior to your animal delivery.
How will I receive my delivery?
Delivery of your Castle Estate order – all Castle Estate orders can be delivered weekly Australia wide, if delivery charges apply these will be shown at the time of order confirmation.
Delivery of your own product – we have arrangements with local distribution partners, if you wish for your product to be returned to you after processing we can schedule delivery. Delivery Fees will apply and be charged to your invoice prior to delivery. Please obtain an estimated quote from our office staff when arranging a booking.
Pick up from our facility – Castle Estate will communicate when your products are scheduled for boning and packing so that you can plan for your collection the following day. Collection of your products is to be between 10.00am-2.00pm, Monday to Friday. Please make sure that your collection date has been confirmed with our team before your arrival.
When and how can I pay for my service or product?
All product is to be paid for at the time of pick up (cash, credit card) or prior to collection via EFT. On-line orders are paid for via the Shopping Cart process within the Providore.