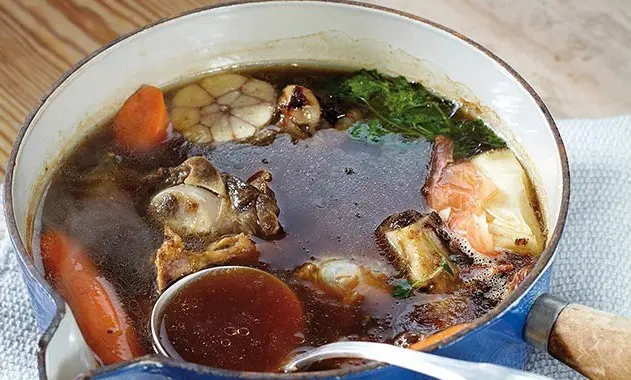 Make your own delicious beef stock
With the cooler weather on its way, we thought it would be great time to share one of our family recipes for amazing, grass fed, free range, gelatinous beef stock. This recipe makes about 4 litres of stock, which you can freeze into smaller containers for use through the middle of the year.
Ingredients
2 kilograms of marrow bones cut into roughly 50mm pieces
3 tablespoons of apple cider vinegar
1.5 kilograms of meaty chuck, brisket or rib bones
3 onions
3 carrots
3 celery stalks
2 leeks (white part)
3 thyme sprigs
1 teaspoon of crushed black peppercorns
1 whole garlic bulb, cut in half across the cloves
2 handfuls of parsley stalks
Method
Place the marrow bones in a stockpot or very large saucepan, add the vinegar and about 4 litres of cold water – or enough to cover the bones. Let it stand for one hour. Preheat the oven to 180 degrees celsius.
While the marrow bones are soaking, place the meaty bones in a roasting pan and roast for half an hour, or until well browned. Then add the roasted bones and the vegetables, roughly chopped, to the stockpot or saucepan containing the marrow bones.
Transfer the fat from the roasting pan into a saucepan and add one litre of water. Place it over a high heat and bring to a simmer, stirring to make sure that no lumps coagulate. Then add this liquid to the bones and vegetables and add more water if required to cover the bones.
Bring the stock to the boil, skimming off the layer that rises to the top. Reduce the heat to low and add the thyme, peppercorns and garlic.
Simmer the stock for at least 8 hours. The longer you cook the stock the richer and better it will be. Just before the end of this period, add the parsley and simmer for another 10 minutes.
Strain the stock into a large container. Cover and cool in the fridge. Remove and discard the congealed fat that rises to the top. Transfer the stock to smaller, airtight containers and place in the fridge, or for longer-term storage, the freezer.
The stocks will keep for 2-4 days in the fridge and three months in the freezer.