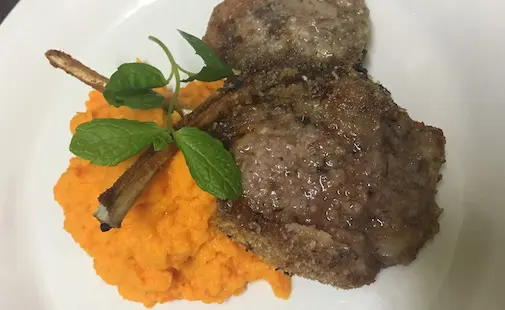 LAMB CUTLETS with CARROT PUREE
Ingredients
For the cutlets
25ml olive oil
lamb cutlets
100g dried breadcrumbs
small handful parsley, finely chopped
sprinkle of dried oregano, to garnish
For the carrot puree
4 large carrots, peeled and diced
20g butter
15ml olive oil
salt
pepper
Method
Start by preparing the carrot purée; boil the carrots in a large saucepan of salted water until tender; usually 10-12 minutes. Drain and transfer to a food processor, then add the olive oil, butter and some seasoning. Pulse until it forms a thick purée. Transfer to a bowl and set to one side.
Preheat the oven to 210°C.
Brush the lamb cutlets with the remaining olive oil and season well.
Mix the breadcrumbs, parsley and seasoning in a large mixing bowl until combined.
Sprinkle the breadcrumb mixture on both sides of the lamb chops, packing lightly to make them stick. Arrange on a lined baking tray and bake for 8-10 minutes, turning halfway through cooking.
Reheat the purée in a saucepan over a low heat at the same time. Remove the lamb from the oven when ready and allow to rest for 3-5 minutes.
Spoon the purée onto plates and arrange two cutlets alongside.