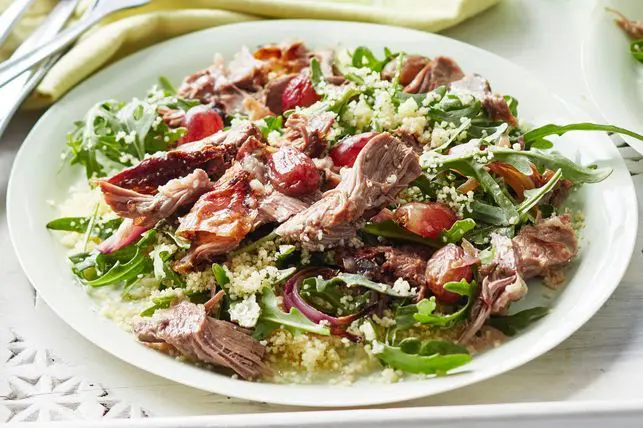 BARBECUED LAMB, GRAPE and COUSCOUS SALAD
SERVES 6
40 Mins PREPARATION - 2 Hrs 30 Mins
Ingredients
2kg lamb shoulder
2 garlic cloves, thinly sliced
2 tablespoons olive oil
2 tablespoons red wine vinegar
400g seedless red grapes
2 red onions, thinly sliced into wedges
1 cup (200g) couscous
1 cup (250ml) boiling water
120g baby rocket
Method
Preheat a covered barbecue on medium. Alternatively, preheat oven to 180C.
Combine the oil and vinegar in a small bowl. Use a small sharp knife to make cuts all over lamb. Place 1 slice of garlic in each cut. Place the lamb in a deep roasting pan and drizzle with half the vinegar mixture. Season.
Cook in covered barbecue using indirect heat, or in oven, for 2½ hours for medium or until cooked to your liking, adding the onion and 300g of the grapes to the pan for the last 1 hour of cooking. Transfer the lamb to a plate and cover with foil. Set aside for 10 mins to rest. Use 2 forks to shred the lamb.
Meanwhile, combine the couscous and boiling water in a medium heatproof bowl. Cover and stand for 5 mins. Use a fork to separate the grains.
Halve the remaining grapes and place in a large bowl. Add the couscous, rocket, lamb and onion mixture. Stir to combine. Drizzle with remaining vinegar mixture and toss to coat. Season. Divide among serving bowls.